Barudan BENT-ZQ-201U Embroidery Machine
edit
REMEMBER To Reserve Time!
Various tools such as the lasers (Epilog or Audrey), 3D Printers, and Forest CNC need to be reserved before using the tool. Review the Slack channel for the tool to reserve time.
Overview
The Barudan BENT-ZQ-201U "Elite" is a 15 needle single head professional embroidery machine - this means you can have 15 colors in a design without stopping to change thread colors - but only do one garment, hat, etc. at a time. (Barudan also makes multiple head machines that can embroider multiple pieces of art at the same time)
When we called shopBarudan, they pronounce the name BEAR - EWW - DAN
BENT designates the electronics - series and model of the machine - The BENT has a built-in driver box and a monochrome graphic LCD "automat"
ZQ is the head style designator ZQ is a 15 needle inline geometry with individual takeup
201 indicates this model has a ositive Drive presser foot lift mechanism"
U is an option code for the "Under-thread Sensor Mechanism" or UTSM. This sensor detects thread breaks and stops stitching.
This model is also sometimes called "Tanto"
These machines were manufactured between 1997 and 2003
Reference - Barudan Model Decoder (PDF)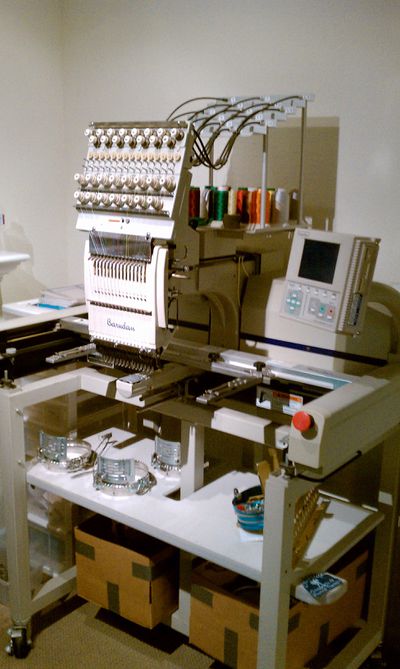 An example of the BENT-ZQ-201U
Current State
We've verified that the machine functions, and can embroider. (YAY!!) All 15 needles are currently operational. About half of the thread break sensors are not detecting breaks. If a thread breaks while stitching the machine may continue to stitch without thread. Thread breaks are fairly common for various reasons (on any embroidery machine). So, do not leave the machine unattended as you may end up with a project that is only hole-punched.
The cap frame has been verified as functional! :)
Software available is Embrilliance on the embroidery computer. Demo versions can be downloaded for practice and learning that are fully functional but will not save. Embrilliance Demo
Items to Fix or Purchase
Ribbon Cable mounting to head - Barudan sells a clip that holds the cable to the back of the head for $5ish
Broken - Barudan LA250051 Head Cover HQ (LA200051) - $45.88
Plastics are yellowed - Retr0bright might be a good project to restore the color
Thread break sensors - Need help from someone good with electronics. Contact Lucy.
Completed Items
Graphic LCD (Hitachi LMG6911RPBC-00T (specs) was not working due to a bad -24 inverter power supply. Neil made a small PS board and mounted it inside the electronic chassis. Pic 1 Pic 2 Pic 3
Needle Change Errors - The machine needed a full degreasing, cleaning and lubrication. We'd purchased stepper motor drivers in the event they needed to be replaced, they will now be stored as parts. MTD2001 - Replacement ordered (qty 2). Datasheet
Lithium battery - Internal memory is good, the machine had stored stitch files
Training CD (NB10035) - Obtained; to be loaded on device to stay near machine
Operators Manual (B8300) ordered from shopBarudan on 1/08/2017 - Obtained; will be located with machine; later found the originals (they are older version?) in the bottom of the thread box
Replaced - Baruan Needle Clamp Screw (KF230240) - 4 are broken - shopBarudan - $.041 - Ian ordered 20 from SewManyParts, they are now in the parts bin.
Helpful - Thread Tension Gauge (top thread) - Allstitch embroidery - $19.75 - received
Helpful - Bobbin Tension Gauge - Amazon - $54.95 - received
Fixed- Tension Post Sensor Wheels (HT240290) are cracking / broken. Ian ordered a new set (18) from China. AliExpress - Tension Post Sensor Wheel HT240290 for Barudan embroidery - The parts have arrived, but it is a good bit of work to replace them, so we are going to keep moving for now, then do a teardown at a later date. At the moment only needle #15 is broken beyond use.
Tension spring #4 warped - Spring item #HT240094 ordered and replaced.
Parts
Consumables
To Research
Floppy Drive Replacement
Gotek brand drive - Purchased, but have not decided to install - Amazon link
Flashfloppy - better software for the gotek drives.
Software Support
The Barudan Elite can consume the industry-standard .DST format (which does NOT have needle assignment), as well as the .UXY format (in the form of files named with .U01, .U02, etc.) which does support needle assignment.
Barudan TES - Full embroidery design software from Barudan. We have an older copy of TES 2.0 that is running on an old Windows XP laptop. It is functional and can serial transfer to the embroidery machine. (Could be good for reverse engineering the protocol)
Embird support for Barudan serial transfer - Embird cable wiring (Embird has been emailed to inquire about non-profit pricing)
Wilcom - Serial Connection - Note that the "Tanto" designation is used here instead of BENT or Elite - Wilcom wants $2600 for an educational institution - PER SEAT.
Embrilliance (used by Tiffany & Mike Smith) for windows & mac can output .DST files, but not .FMC files (quick scan of website). Embrilliance does not seem to have serial port support. Demo Version Downloads
StitchBuddy for Mac (and ios) - for editing existing designs
Barudan requires color change at beginning of file, is a setting in Wilcom Barudan Color change missing - We've seen this behavior on some files we've created and wondered why
Embroidery Design
Resources
Internal Parts
Serial Communication Specs
These specs come from the Wilcom Serial Support page
Protocol=Standard Serial
Baud=9600, or 38400
Data bits=8
Stop bits=1
Parity=None
Handshaking=Embroidery Machine
DST File Format Specs