How to Turn On the Barudan BENT-ZQ-201U
The Barudan BENT-ZQ-201U at our MakerSpace is a powerful tool, but it is not a new machine. This model was built between 1997 and 2003, so the technology isn't state-of-the-art, but it does work. When you are using the Barudan, remember to take things slowly and wait for the machine to respond before trying to move forward to the next step by pushing another button. If you confuse the machine, simply power down and start over.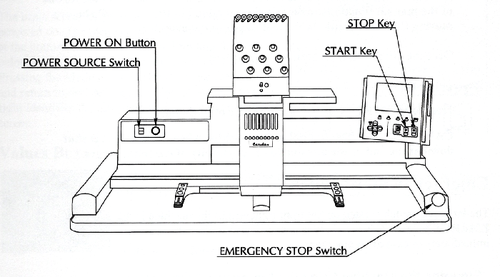 Anatomy of the Automat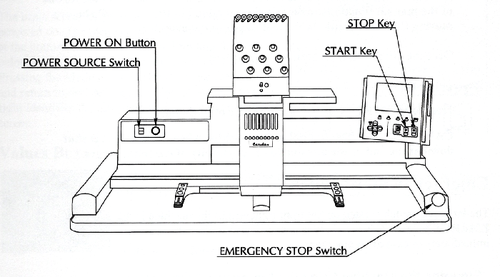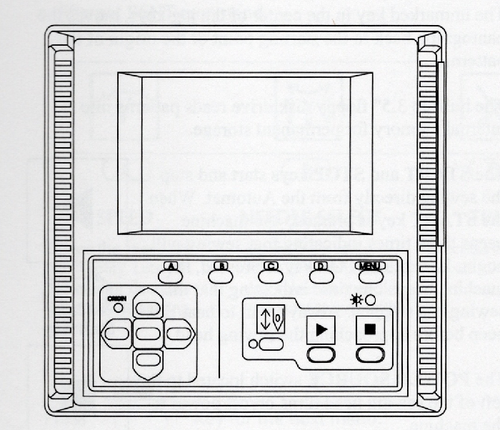 The Menu keys (A-D and Menu) correspond to the icons which are displayed above them on the LCD. The 'Menu' key moves to the next set of commands.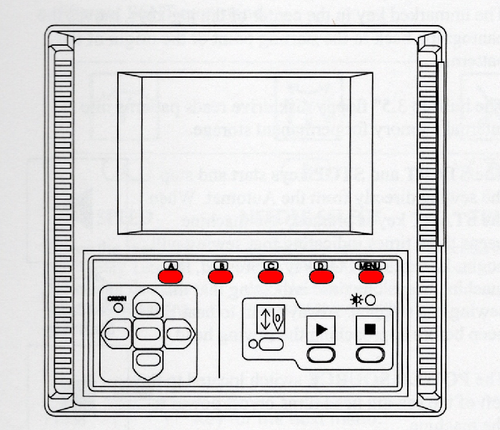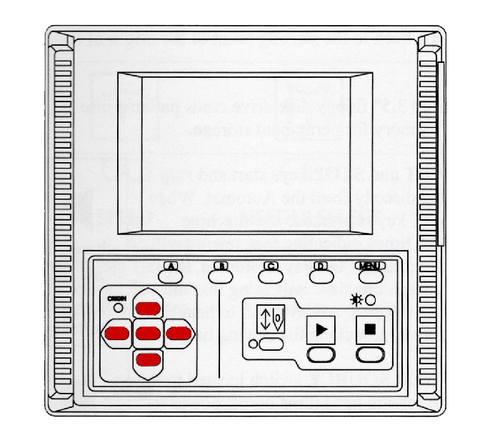 THE EMERGENCY STOP BUTTON SHOULD ONLY BE USED IN THE CASE OF A TRUE EMERGENCY. If an emergency stop is required, please discontinue use until the Barudan can be inspected by one of the Persons of Contact.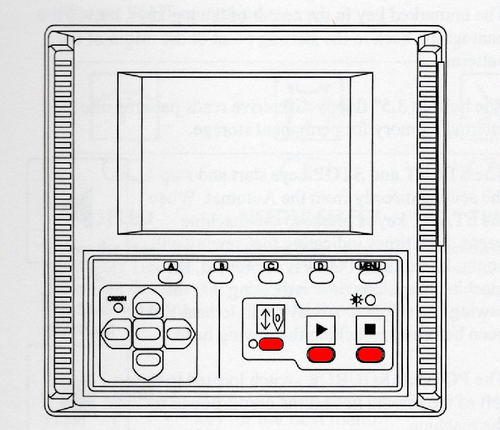 ====
Before You Mount the Hoop and Turn the Power On
Open the Hook Assembly Arm, remove the Bobbin Case, and inspect the area to make sure there is no lint, fuzz, or loose thread in the area.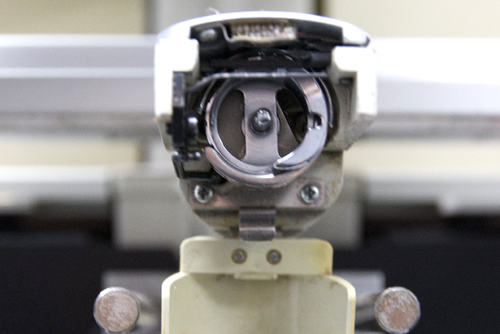 Place one drop of clear sewing machine oil at the point where the rotating hook rests. Wipe away any excess oil with a tissue or paper towel.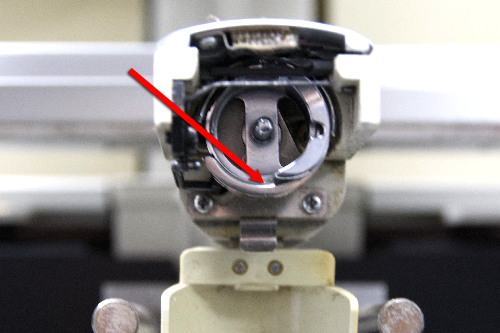 The approved sewing machine oil for lubricating the Bobbin Assembly Hook is kept on the Barudan Stand and looks like this. Do not use any other type of oil for this task.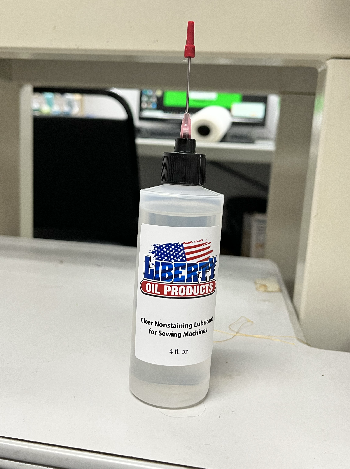 Replace the Bobbin Case in the Hook Assembly Arm (for help, see How to Change or Refill the Bobbin), then you are free to mount the hoop and turn on the machine.
Waking the Barudan Up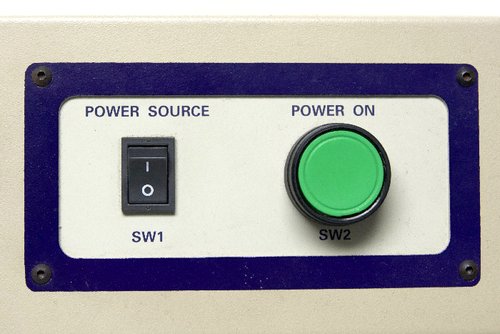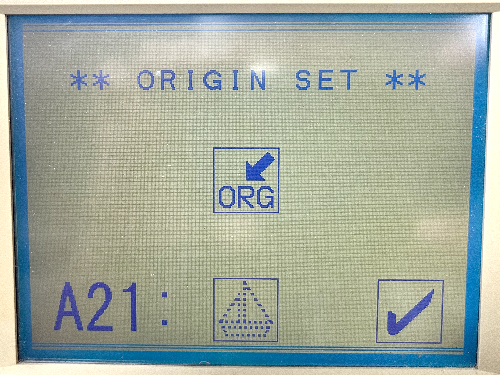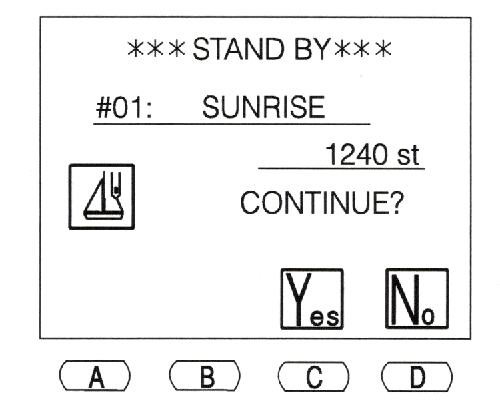 Preparing the Needles
If you changed colors for any of the needles, threads will be hanging beneath the presser feet as shown below. Unsecured threads will become tangled in the working threads and may cause other problems.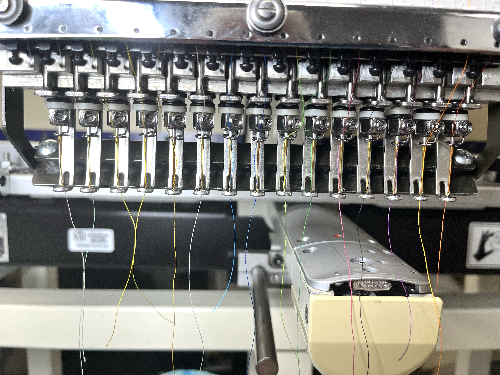 The Barudan is equipped with a Thread Keep, which encloses a velcro pad to keep the threads safely stored when not in active use.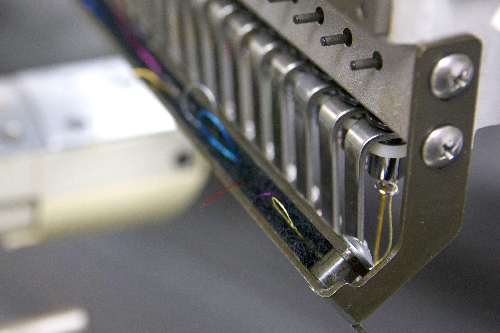 Repeat this process for any needle which carries loose thread. Once all threads are stored, then you are ready to load your embroidery file.
---