MakerFX Common Chassis Concept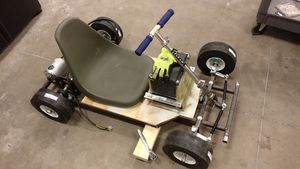 We are designing a common chassis that can be used by MakerFX PPPRS teams. The FloridaMan Racer is the prototype, and then we will build other cars using the same design.
The chassis is 1" tube steel (1/8" thickness), and is fairly simple to cut and weld It has a few 45* cuts that are easy on the metal chop saw.
The rear axle bolts on using pillow blocks, and the front steering is also bolt-on.