Screen Printing Zone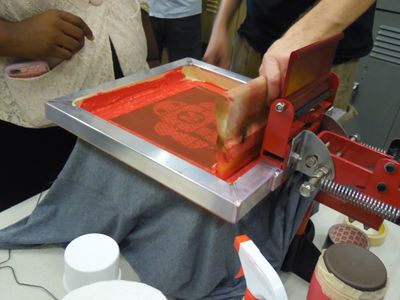 MakerFX has two MerchMakr screen printing presses, two heat presses and a flash heater.
Want to learn how to make your own screen printed shirts? Check the Resources section below for how-to articles, then reach out to Ian when you want to get started.
If you want to make a few shirts, have you considered heat transfer vinyl? It is WAY cheaper and faster for a few shirts...and is durable!
General Policies for the Screen Printing Zone
Note really a policy, but please note that this stuff is messy and can be expensive. Please ask Ian if you want to start screenprinting so that we can make sure you are properly trained, and we set you up for success. You will need to provide your own screens and consumables, BUT if its something we already stock we can prorate the cost of the consumables to reduce the cost to you.
Equipment
Consumables
Pre-burnt Screens
For the maker that doesn't have time to do the darkroom processes, consider ordering a pre-burnt screen. Note these links are to the companies - you still need to decide which size, which mesh count, etc. Note that if you don't order the MerchMakr screens, they won't have the alignment tab for the MerchMakr system, but that isn't a big deal for a single color shirt.
Resources
Maintenance
---