Bosch 12" Axial Glide Compound Mitre Saw

Location: Wood Zone
Point Of Contact @joe.gravelle on Slack or by e-mail at Joseph.Gravelle@Gmail.com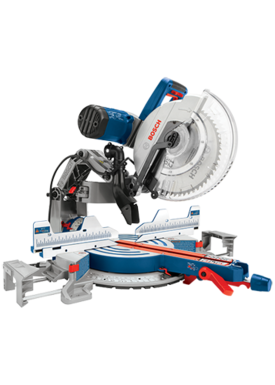 General Polices for the Mitre Saw
This tool is only for cutting wood and certain types of plastics, no metal ever. We have a metal working area for any metal working needs you may have

Safety Notes
Always Wear Safety Glasses
Tie back long hair.
Remove any jewelry from your wrists, especially if it dangles
Be aware of where your hand is and the blade will be going
IF unsure how to use the tool, stop, ask in the slack for assistance and or wait until you get properly trained.
Sliding compound miter saws can kick back like regular mitre saws and they can also climb towards you if you are not careful. This is why going slow and steady is always advised
Saw Use and General Setup
Turn on Dust Collection.
Open blast gate for the miter saw
Unlock the head and if needed unlock the slide if cutting wider than 10"
Measure Twice / Cut Once.

Adjust the fence stop if you need to make repeated cuts

Adjust the angle if cutting other than 90 degrees and lock it in place
Adjust the bevel angle is cutting other than 90 degrees and lock it in place
Hold wood firmly against the fence and cut the wood.

Do not plunge the head fast, go slow and steady.
Keep hand away from the blade when holding your wood in place.

Once done using the saw lock the slide and head and clean up.
Turn of dust collector.
Close blast gate.
Blade Types and Where to Buy
The Bosch 12" Axial Glide Mitre saw uses a 12" mitre saw blade and currently has a 60 tooth general purpose blade installed. If your project requires a different blade please contact the POC to learn how to change blades safely and how to reinstall the original blade so others may use it.
You may want to use a finer tooth blade to reduce tear out and produce a nice finished cut which this saw is capable of due to its very tight tolerance and fine engineering. Chopping 2x4's will be fine with the stock blade but milling lumber meant for fine wood working might require a better blade if you want to minimize processing time of your lumber.
Only wood working blades are allowed on this tool. Blades for non ferrous metals and ferrous metals are not allowed.
12" Mitre Saw Blades
Lowes
Home Depot
Amazon.com
Rockler.com or at the store in Altamonte Springs
WoodCraft or at the store in Altamonte Springs
Forrest Saw Blades [1]

Super high quality blades
Project Ideas
[2] The Spruce Crafts - Mitre Saw Projects

The Mitre Saw is a pretty good all around tool and many projects can be completed using only the mitre saw for cutting wood to length and to any angle you may need. It will not drill holes or rip wood, see the drill press and table saw for those operations.