Dewalt 20 inch Scroll Saw
Location: Wood Zone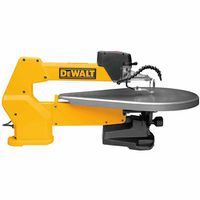 The Dewalt DW788 20" Variable-Speed Scroll Saw operates quietly and smoothly for accuracy. The tool-free blade clamp allows for quick and easy blade changes. Convenient placement on the liftable arm of the dust blower, power switch, and saw adjustments on the front of the upper arm provide for easy adjustment. Oversized, cast-iron table provides excellent material support and has the ability to bevel to both the left and right. Use only 5" plain end scroll saw blades. Pin end scroll saw blades cannot be used with the DW788. This saw has a maximum thickness capacity of 2" and a stroke Length of 3/4"
Policies for the Dewalt 20" Scroll Saw
To prevent rust never set cold drinks, sweaty body parts or anything wet on the machined table surface.
Information
Scroll Saw Blade Selection Chart
Speed Setting  Strokes Per Minute
    0                 400 
    1                 600 
    2                 800 
    3                 950 
    4                1100 
    5                1300 
    6                1450 
    7                1600 
    8                1750
Slower speeds are recommended for metals, plastics, harder woods and very thin materials.

The table of the scroll saw bevels 45°left and right. A detent is set at 0°. To bevel the scroll saw table, loosen the bevel lock knob, and bevel the table to the desired setting, indicated by the bevel pointer. NOTE: Before tilting the table for bevel cuts of 45˚, check the clearance around the lower thumbscrew. To facilitate an accurate 45˚ cut the thumbscrew and setscrew may need to change places. On the setscrew side, sufficient clearance is available.
Videos
Accessories
Consumables
5" Plain End Scroll Saw Blades
Maintenance
---