Grizzly G0555LA35 14" 1 HP Band Saw
Location: Wood Zone

Point Of Contact @joe.gravelle on Slack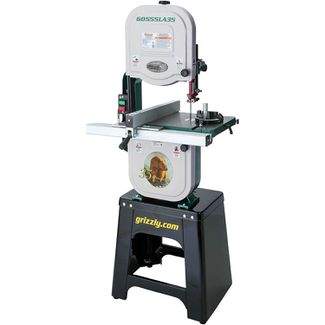 General Policies for the Bandsaw
This tool is only for cutting wood and certain types of plastics, no metal ever. We have a metal working area for any metal working needs you may have
Safety Policies for the Bandsaw
Wear Safety Glasses at all times.
Do not remove the blade guard, or run the saw with the blade guard 100% out of the way unless your workpiece calls for it.
Tie back any loose hair.
Remove any bracelets, dangling necklaces, long sleeves, etc.
This saw can hurt you if you do not pay attention to where your hands are at all times. Use a push stick when you need to get close to the blade.
Saw Use and General Setup
Saw Specifications

13.5" cutting capacity / throat
Maximum cutting Height: 6"
Blade Size: 93.5"
Blade Width

Minimum 1/8"
Maximum 3/4"
Saw Setup and Use
Tension the blade.
Set blade guard to desired height. Always cut with the guard in place to protect yourself.
Turn on dust collection and open the blast gate for the saw
When ready turn the saw on and begin your work
Clean off saw once completed, brush or vacuum off dust.
Turn off dust collection and close the blast gate
Detention the blade

This will ensure the band saw wheel tires do not flat spot or wear out the tension spring prematurely. You only need to do this once you are done using it for the day.

The table below lists the minimum radius of a cut that a certain blade width can accomplish.
Blade Width and Cut Radius

| Blade Width | Minimum Cut Radius |
| --- | --- |
| 1/8" | 3/16" |
| 3/16" | 5/16" |
| 1/4" | 5/8" |
| 3/8" | 1-1/2" |
| 1/2" | 2-1/2" |
| 5/8" | 4" |
| 3/4" | 5-1/2" |
G0555LA35 14" Blade Sizes
The bandsaw has a general purpose blade on it for regular usage but if you need to swap it out for a different type of blade, wider, thinner, more or less teeth, please let the Point of Contact know so they can train you how to do it. Once finished with your blade re install the community use blade.
Blade types and where to buy
Rockler.com or locally at the store in Altamonte Springs
Woodcraft.com or locally at the store in Altamonte Springs
[1] Wood Slicer Resaw Blades
Special note on resewing - The saw is currently setup for 110v but is also rated for 220v. If we need to bump it up to 220 for resewing we can easily make it happen.
Project Ideas and Bandsaw Usage