Sawstop 10 inch Professional Cabinet Saw
Location: Wood Zone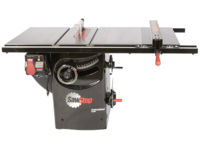 Point Of Contact @joe.gravelle on Slack

General Policies for the SawStop PCS
If you do not know how to use a table saw please request training, especially with this saw and its special technology. Before using the SawStop you will need to be cleared on its setup and use by Joe
No cutting of conductive materials such as aluminum, wet wood, pressure treated, or otherwise known conductive materials. Cutting these types of materials will trigger the blade brake and destroy the blade.
If you trip the brake on the saw, accidentally( flesh to blade contact or the material tripping the brake), please alert the zone POC and you'll probably wish you had put on your brown pants. You are also responsible for replacing at least the blade if the brake was proven to be tripped by flesh contact, a $50 blade is cheaper than losing a hand. SawStop will replace the brake free of charge if its sent to them after an incident and they find it was tripped by flesh contact.
General Disclaimer
SawStop's Flesh Detection technology cannot prevent kickback or all injuries. If you are unsure of what you are about to do, stop and ask for assistance.
Saw Use and Startup Procedures
After being cleared on the saw but needing a reminder please reference the below list on how to setup to cut on the table saw
Plug the saw in to power
Verify the dust collection is hooked up to the saw, it may have been disconnected and put away.
Ensure the table is clear of any materials and the blade guard is in place
Turn the power switch to on and allow the saw to do its self check. Reference the side of the switch box for the light blink codes. If the saw will not power on, do not force it to work. Message the POC
Once the saw is ready the green light will illuminate and the saw is ready for operation
Shutdown Procedures
After every use please:
Clean any sawdust from the saw
Lower the blade
Place any tools back to their homes, and turn the saw off
Unplug from the wall and store the cord away
Blade guard is reinstalled if a riving knife was swapped out
Fence is parked on the black table surface
Equipment Features
Flesh Detecting Technology - [1]
Mobile Base
36" T-Glide Fence
Overarm Dust Collection
Dust Collector Blade Guard
Current Collection of Jigs or Special Tools
Crosscut Sled
Jointing Sled
Push Stick
MicroJig GRR-Ripper push block [2]
Dado Blade and Dado Blade table insert needed (Dado style must not have anti kickback blade design)
Useful References
The Accurate Tale Saw by Ian J. Kirby [3]
7 Things To Get You Started Using The Table Saw - Wood Working for Mere Mortals [4]
6 Common things you may be doing wrong with your table saw - Wood Working for Mere Mortals [5]
Maintenance
Regular maintenance of the saw is required and will be carried out by the area contact.
Common Setup Tips: For those interested